Vision & Strategy Development
Our specialists take a practical methodology towards building up your strategy.
Building up your procedure and vision is a critical business function that will enable you to better evaluate key issues and needs guaranteeing strategic alignment in your association. 
Your plan can serve as a living report that adjusts and adapts to fit current economic situations. Through our encounters, organizations that can't settle on vital choices and transform their organizational framework energetically fail to meet expectations. These organizations then experience the ill effects of poor response time and responsibility. 
Together we can assist you in creating an effective vision. 
Don't know where to start? Together we can sort it out. 
Contact Us
When Strategy Development fizzles 
When an organization is without these statements, they can lose track of their business objectives, and experience the ill effects of poor leadership. 
Methodology and vision advancement includes noteworthy changes inside organizations over a specific period of time. Making progress in the market requires a vision and strategy that is: 
Allows downstream basic leadership 
Is constant and versatile 
States abilities and resources required 
Provides inside and outside information 
Adaptive, dexterous and consistent 
Created from a wide range of sources
Xccelerate Technologies Approach to Strategy Development
Our specialists ensure strategic purpose and alignment.
We ensure that short term priorities align with long term goals, vision, and aspirations. By using market research and business analytics, our experts identify key issues, opportunities, and threats that may impact your business model.
By refining your organization's core purpose, mission, and vision, we build critical strategies that get you to where you want to be. By planning, organizing, evaluating, and prioritizing relevant strategies we can create a path for you that contains your short term, mid-term, and long term goals and obstacles.
Core Purpose & Values:  Why the business exists and the way it operates.

Envisioned Future & Goal management:  Envisioning an inspirational future and the desired target.

3 to 5 Year Strategic obstacles: Discovering any strategic barriers that need to be overcome to achieve the goal.

Multi-Year Roadmap:  What is needed to effectively organize the strategies over the next 3 to 5 years.

Annual Planning:  Start the development of a yearly plan that includes critical solutions, priorities, and ownership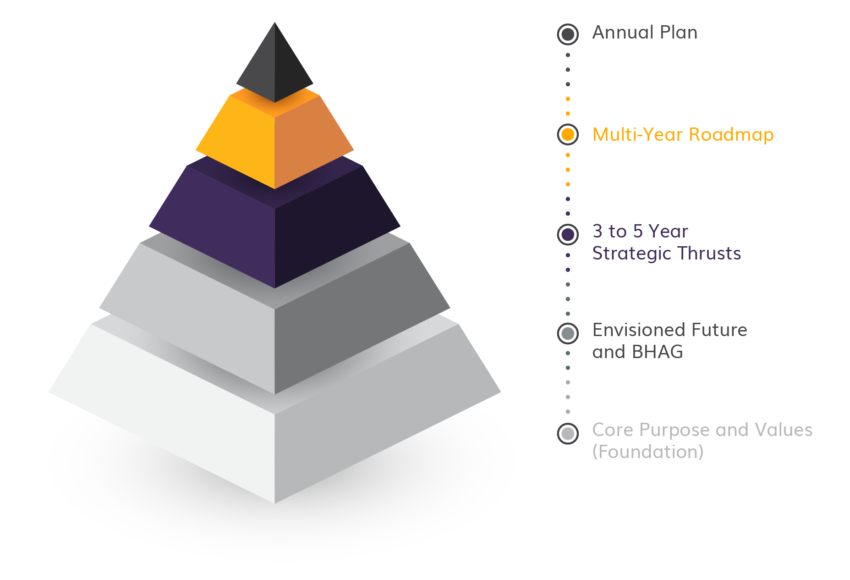 Solutions from the start to the end
Having a business strategy is only half the battle, prioritizing and defining key initiatives that are needed to reach the goal, then actively managing these initiatives is the other half. Deploying and implementing these strategies is just as essential and in many cases, even more so.
By working together, we can successfully enable, manage, deploy, and sustain change.
Strategies for Products and Services
Determine how products should be managed and segmented, with respect to the strategic purpose as well as profitability.

Determine how to add innovation, agility, and responsiveness to your product development process.

Determine what product portfolios are aligned to match the market needs and competitor offerings.
Customer Channel Strategy
Are your customers satisfied with products, prices, and services?

What are the driving factors that affect profitability for each channel?

What can you do to increase profitability in each channel with organizational support and technology?

Determine which channels can offer the most significant opportunity for growth 
Operating Strategy
What will the change impact?

What is our shared service strategy?

What are our core competencies?

How are our operating capabilities impacted by the various policies around product, growth, channel, and customer focus?
Want to learn more about how strategy and vision development can help your business?
Contact us today
We're always looking for talented and resourceful people, do you always strive to do your best wherever you go?
If so we would like to hear from you, Our policy is to always find the best talent possible, we're truly pleased with our results. We employ a professional and dedicated work environment that has a vast working knowledge of all the relevant processes.